| | | | | | | | |
| --- | --- | --- | --- | --- | --- | --- | --- |
| E-mail | | | Copyright © 2004-2017 | | | | Early writings from Southern Patagonia | | | |
Diary of a sheep-drive from the Río Negro to San Julián


700 miles through the empty lands of southern Argentina




Author

:

Thomas A. Saunders




Date:

September 1888 — March 1889
March 6-11, 1889
[...camp for the] night; the place is called lean gap. [?]
7th: Started again to cross the travesía. Supposed to do it in one day. but took 2 days. Camped one night in a valley about half-way, but the water is not to be depended upon. Stopped there on the 8th.
Started again on the 9th and came to the Tres Arroyos to a spring and camped. Stopped there on the 10th: doing nothing but eating.
11th: Started again from Tres Arroyos. Came on to the high ground and then got the arroyos right in and our back. Travelling until we came in sight of a range of hills and cut ...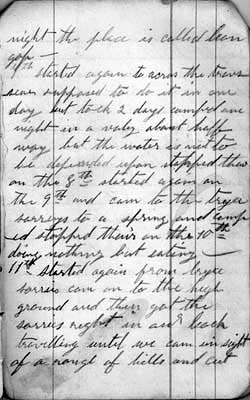 night the place is called lean
gap —
7th started again to acros the travs
sear supposed to do it in one
day but tock 2 days camped one
night in a valey about half
way but the water is not to
be depended upon stopped thear
on the 8th. started again on
the 9th. and cam to the tryce
sarreys to a spring and camp
ed stopped thair on the the 10th.
doing nothing but eating —
11th Started again from tryce
sorries cam on to the high
ground and then got the
sorries right in and our back
travelling until we cam in sight
of a range of hills and cut