| | | | | | | | |
| --- | --- | --- | --- | --- | --- | --- | --- |
| E-mail | | | Copyright © 2004-2017 | | | | Early writings from Southern Patagonia | | | |
Diary of a sheep-drive from the Río Negro to San Julián


700 miles through the empty lands of southern Argentina




Author

:

Thomas A. Saunders




Date:

September 1888 — March 1889
February 28-March 5, 1889
[...the guide lost himself] and could not find the horses again, but the men with the horses did not lose the water. 1st Mar: Came to the first water and camped.
2nd: Came on to a spring, Cañón Verde, 9 leagues from the Río Deseado, and camped: very good place to camp for a day or two. 3rd: Still in Cañón Verde. Went out hunting and caught one guanaco. Hamilton sick; guide not come back.
4th: Could not start as the guide has not come back yet. Came back in the forenoon, but too late for a start.
5th: Started and came about ...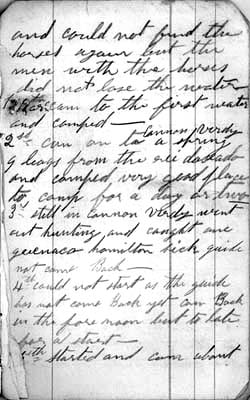 and could not find the
horses again but the
men with the horses
did not lose the water
1th? Marc. cam to the first water
and camped —
2st. cam on to a spring
Cannon Verdy [between lines]
9 leags from the rei daseado
and camped very good place
to camp for a day or two
3rd. still in Cannon Verdy went
art hunting and caught ane
guenaco hamilton sick guide
not come Back —
4th. could not start as the guide
has not come Back yet cam Back
in the fore noon but to late
for a start —
..th. Started and cam about