| | | | | | | | |
| --- | --- | --- | --- | --- | --- | --- | --- |
| E-mail | | | Copyright © 2004-2017 | | | | Early writings from Southern Patagonia | | | |
Diary of a sheep-drive from the Río Negro to San Julián


700 miles through the empty lands of southern Argentina




Author

:

Thomas A. Saunders




Date:

September 1888 — March 1889
October 7-14, 1888
Had to stop all day on the] 7th. Lost one tropilla of horses but found them again.
Started again on the 8th, and came on past Valcheta about one league. Could not get any stores at Valcheta.
Started again on the 9th, and came to Pajalta; and did not find very many stores there either, but got a little. Stopped there on the 10th and 11th. Hamilton and McLean went to Valcheta; came back on the 12th. The Sergeant came to inspect the horses on the 13th, and found one without the mark that should have been in the guía. Stopped all day on ...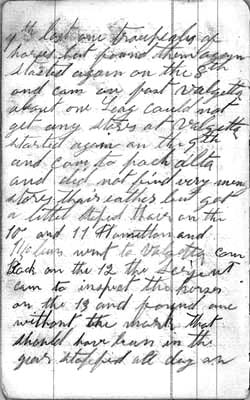 7th lost one troupealy of
horses but found them again
started again on the 8th
and cam on past Valgetta
about one Leag could not
get any stores at Valgetta
Started again an the 9th
and cam to pach alta
and did not find very meny
stores thair eather but got
a littel Staped thair an the
10 and 11 Hamilton and
Mc lean went to Valgetta cam
Back on the 12 the Serjent
cam to inspect the horses
on the 13 and found one
without the mark that
should have been in the
gear stopped all day on