| | | | | | | | |
| --- | --- | --- | --- | --- | --- | --- | --- |
| E-mail | | | Copyright © 2004-2017 | | | | Early writings from Southern Patagonia | | | |
Diary of a sheep-drive from the Río Negro to San Julián


700 miles through the empty lands of southern Argentina




Author

:

Thomas A. Saunders




Date:

September 1888 — March 1889
November 4-7, 1888
[... not always to] be depended upon for water, but passed a near spring. Our vacuno did not knapo [?] it, but the guide with the sheep stopped at it.
Started from the lagoon on the 5th and came to Pichalao to a nice spring of water, and camped there. One animal tired and had to be left, but went back and got it to the rest of the troop. Stopped there on the 6th to rest the animals.
Started again on the 7th, but had not gone far when the same animal gave in again: so we had to kill it. We ...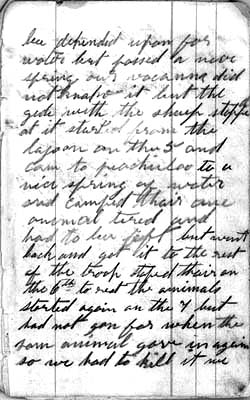 bee depended upon for
water but passed a near
spring our vacanna did
not knapo it but the
gide with the sheep stoppe
at it started from the
lagoon on the 5 and
cam to peachirlao to a
nice spring of water
and camped thair one
animal tired and
had to bee left but went
back and got it to the rest
of the troop staped thair an
the 6th to rest the animals
started again an the 7 but
had not gon far when the
sam animal gave in again
so we had to kill it we