| | | | | | | | |
| --- | --- | --- | --- | --- | --- | --- | --- |
| E-mail | | | Copyright © 2004-2017 | | | | Early writings from Southern Patagonia | | | |
Diary of a sheep-drive from the Río Negro to San Julián


700 miles through the empty lands of southern Argentina




Author

:

Thomas A. Saunders




Date:

September 1888 — March 1889
September 19-22, 1888
Left Río Negro on Sept. 19th, 1888. Came to Laguna Liffapon – about two leagues and very thick with monte. Could scarcely get the horses through.
Started again on the 20th. Came to Laguna Comenna, but found it dry and had to come on to Laguna Bandaro. Also very thick with monte. Stopped all day on the 21st waiting on the sheep.
Went out to the camp to get beef and got it started again on the 22nd and got to the Laguna Cuero Caballo. Lost some mares and 4 horses that night. Had ...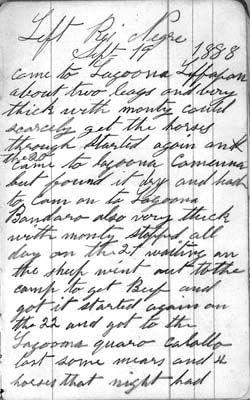 Left Rei Negre
Sept. 19 1888
came to Lagoona Liffapon
about two leags and very
thick with monty could
scarcely get the horses
through Started again on
the 20
came to lagoona Comenna
but found it dry and had
to cam on to Lagoona
Bandaro also very thick
with monty stopped all
day on the 21 waiting an
the sheep wint out to the
camp to get Beef and
got it started again an
the 22 and got to the
Lagoona quaro caballo
lost some mears and 4
horses that night had