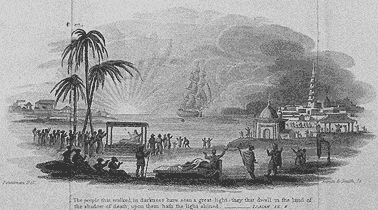 In 1833, two Protestant ministers, William Arms and Titus Coan, were sent by the American Board of Commissioners for Foreign Missions (ABCFM) to the Pacific Coast of Patagonia, with instructions to study the feasibility of establishing a mission station. Unable to obtain transportation to that remote area, they instead made their base of operations at Gregory Bay, on the north shore of the Strait of Magellan. Contact was established with several of the nomadic groups, in an effort to gain their confidence. According to their best estimates, the entire native population between the Río Negro and the Strait of Magellan was around 1,000 souls.
The missionaries' subsequent report is a valuable contribution to local ethnology. The abbreviated version presented here was serialized in four editions the Board's magazine «The Missionary Herald» (1834-35). A complete account of the expedition was eventually published by Coan in 1880 under the title of «Adventures in Patagonia: a Missionary's Exploring Trip». From that book we have included his description of the 40 days spent in the Falkland Islands during the return journey, for its considerable historical interest.
FULL TEXT: Titus Coan manuscripts: Patagonia; Falklands
Presumably convinced that their resources would be better employed elsewhere, the American Board did not establish any mission station in Patagonia. Later contacts with this native group are Gardiner & Hunt (1845), and Barnard (1853). The definitve study (in Spanish) is Martinic, «Los Aónikenk: Historia y Cultura» (published by the Universidad de Magallanes, Punta Arenas, 1995), and available in e‑book.
Original documents: Library of Congress, Washington DC
Illustration: Missionary certificate, issued to Rev. Titus Coan (detail)