Skip over navigation
Taming Virgin Land — Compañía Explotadora del Baker (1905-1908)
told by William Norris: Triumph and Tragedy
The Author and his Project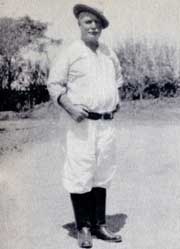 William Norris in riding gear
[Tschiffely, 1940]
Early precedents:
The 3,000 cattle that William Norris brought from Saladillo to the Baker Valley in 1906-1907 were driven an estimated 1,000 miles overland before reaching their final destination. Long-distance cattle-drives of this magnitude, although impractical and uneconomic today, have a long history in Argentina, as testified by the Spanish colonial archives. For instance, in 1659 Don Juan del Pozo y Silva, resident of Buenos Aires, drove 2,300 head of cattle from the area of Rosario across the Andes to Santiago de Chile. Similarly, in 1662, Luis de Mena y Pavón repeated the journey with no fewer than 10,000 animals. In terms of the difficulties and dangers they faced, these veritable "expeditions" are comparable to any of the known Patagonian drives of more recent times.
[Ref. "
Don Juan del Pozo y Silva, Cabildante y estanciero de La Trinidad 1631-1697
", by José María Pico, in "Genealogía, Revista del Instituto Argentino de Ciencias Genealógicas", No. 25, Buenos Aires, 1992, pp.31-35, accessed in
link
]
William Norris (1868-1951) was born in Manchester, England, into a well-to-do family of coach-builders. At age 16 he migrated to Argentina (Gualeguay, Entre Ríos province), where his uncle Henry Darbyshire was part-owner of an estancia (ranch). William rapidly built a reputation for his ability as a horse-tamer. From 1900 to 1904, he was employed at the Curumalán estancia (Buenos Aires province).
Next he was hired by Compañía Explotadora del Baker, a ranching company with ties to Valparaíso and Punta Arenas. This company was formed to work a huge land concession (around 3,600 sq. miles, according to Norris) granted by the Chilean government, in the River Baker district. This part of Patagonia, located between the Northern and Southern ice-fields, the Andes and the Pacific Channels, is difficult to reach; at the start of the 20th century, it was still largely unexplored and totally undeveloped. The Company gave Norris the following instructions: first, to reconnoitre the region, and confirm its suitability for cattle-raising and commercial logging; next, to develop infrastructure; and subsequently, to bring in several thousand cattle from Argentina (by the only feasible route, a mountain pass subsequently named Roballos).
In his Memoirs, William Norris shows how he responded to these monumental responsibilities. With energy and ability, in just four years, he built a flourishing stock of cattle and sheep, despite the tragic setback described in his 1906 Letter. The 1907 Anecdote records another unexpected danger, when he was threatened by two bandits (allegedly of the Butch Cassidy gang); fortunately, he survived unharmed. Nonetheless, the market in cut timber was not as lucrative as had been calculated; unable to cover its high start-up costs, the company went into bankruptcy in 1908. Norris resigned: his son later declared that his father was never paid for those years of work. Buildings and equipment were dismantled and sold off. Most of the livestock remained in the upper valley, reverting to a wild state (see footnote). A glimpse of William Norris's travels is provided by the Visitor's Book of the Punta Arenas British Club, where his name appears 3 times in 2 years.
Timeline
[ ARG = Argentina :: CHI = Chile :: WN = William Norris ]
Place-names can be located on these maps.
Est. dates
Person responsible: major activity
Reference
Feb 1905 -
Apr 1905
WN: exploration visit - from Puerto Santa Cruz (ARG), via Paso Roballos to Baker District (CHI); then downriver to Canal Baker, ending at Canal Messier
Memoirs pp. 1-4

Sep 1905 -
Sep 1906
200+ Woodmen and labourers: hired in Chiloé (CHI) - transported by ship to Bajo Pisagua (Canal Baker) - cut timber; erected buildings, built roads and bridges
Memoirs p. 14

Jan 1906 -
Feb 1906
WN: In ARG, brought 3,000 Shorthorn breeding cattle by train from Saladillo (Bs.As.) to Neuquén, then drove them overland to Sierra Colorada (Chubut), to overwinter
Letter p. 4
Memoirs pp. 6-8
Apr 1906 -
May 1906
WN: bought 2,300 criollo cattle at Tecka (Chubut, ARG), driving them overland via Río Mayo and Paso Roballos to La Colonia (Baker District, CHI)
Letter pp. 1-3
Memoirs pp. 8-12
Jun 1906 -
Sep 1906
WN with Chilote workmen: stranded at Bajo Pisagua (Canal Baker, CHI); many ill, many died
Letter pp. 5-9
Oct 1906
WN: At Valdivia (CHI), took delivery of steamer "Baker" to transport passengers and materials to/from Bajo Pisagua
Letter p. 9
Nov 1906 -
May 1907
Lino Jirado (foreman): drove breeding cattle overland from Sierra Colorada (Chubut, ARG) to Baker District
Memoirs p. 8
Jan 1907 -
Apr 1907
Un-named shepherds: drove 20,000 sheep from Ea. Cóndor (Santa Cruz province, ARG) to Baker District
Letter p. 10
Memoirs p. 12
Apr 1907 -
May 1907
Un-named bandits: entered Baker District from ARG, held up WN at Bajo Pisagua (CHI)
Anecdote
The Isle of the Dead
In "This Way Southward", Aimé Tschiffely describes how his "old friend" Bill Norris and over 200 workmen had spent three months at the mouth of the River Baker, "shipwrecked" and with no means of communication with the outside world; how the men fell ill from the lack of fresh food, and how many of them died and were buried there on a nearby island. Despite this appalling experience, the work went on, and Norris returned to the Baker with fresh workers in the following season. For many years this second-hand account, published more than 30 years after the event, was the only information available to the general reader about this disastrous episode, which cost dozens of lives. As was to be expected, many conspiracy theories have appeared to "explain" that distant event.
Decades later, in her book "Caleta Tortel y su Isla de los Muertos" (pub. 2000), the Aysén historian Danka Ivanoff presents and analyzes various materials (written and oral) concerning the burial ground known as "La Isla de los Muertos", where simple crosses still mark the graves of the Chilote workmen who died at Bajo Pisagua. After the book's publication, John Norris (1909-2009?), the son of William Norris, provided more information: the two English pieces presented here were among his late father's papers.
In his Memoirs, William avoids dealing with this subject. However, the Letter to his uncle Henry Darbyshire does much to dispel the mystery. His explanations help to allay allegations of foul play; but there are still unknowns — perhaps more answers will be found, be it in official archives, newspapers of the period, or some other manuscript ...
Epilogue
The concession awarded to the Compañía Explotadora del Baker was abandoned in 1908. In 1916, Hobbs & Co. of Punta Arenas, acting on behalf of a group of investors, invited the experienced rancher Lucas Bridges to participate in a new project in the Baker district. The process was not easy: Bridges himself had to take charge of the operations, and it took a long time for the business to became profitable. This difficult experience highlights the accomplishments (albeit transitory) of William Norris's endeavours in "taming" virgin land.
Footnote
The following anecdote, recorded by William Norris's son John, emphasizes the great number of animals that had been abandoned and gone wild after the collapse of the Baker enterprise.
«As a proof of the quantity of Cattle which were left wild in the Baker after 1908/9, the Swift San Julián

Frigorífico

was originally built about 1910 to kill cattle, besides sheep. The hoists on the "beef killing" floor were over a meter higher than standard; also there were still remnants of very high fences around the "corrales". On enquiry why, I was told that the cattle which were killed in those days were so wild and would or could jump like deer. These cattle came from the "Pre-Cordillera" estancias and Indian Camps. These, no doubt, were cattle which had roamed over or, more likely, [been] hustled over the passes, there being no one on the Baker Camps to look after them. The same goes for the many thousands of sheep which were in that district at the time.»
Acknowledgments: Special thanks to Danka Ivanoff for sharing her knowledge of the region, plus these original materials, printed in translation in the second edition of her book "Caleta Tortel y su Isla de los Muertos".

Sources:
1. "Caleta Tortel y su Isla de los Muertos", Danka Ivanoff W., 2nd edition, 2003 (out of print, 2011)
2. "This Way Southward", A. F. Tschiffely, New York, 1940
3. Copy of William Norris's Letter and hand-written, signed Memoirs (courtesy of Danka Ivanoff)
4. Description of "Colección cartas familiares de John Norris, 1836-1921", Universidad San Andrés, Buenos Aires, http://biblioteca.udesa.edu.ar/CEyA/Archivos/john-norris/john-norris-desarrollo (VI-2011)
5. "El Baker, un territorio bravío", Francisco Campos Menéndez, Santiago 1986

Illustrations:
1. "Trepando los Andes", Clemente Onelli, Buenos Aires 1904: (a) Neuquén railway bridge; (b) Lands of the Argentine Southern Land Company
2. "The Countries of the King's Award", Col. Sir Thomas Hungerford Holdich, London 1904: (a) River Baker

Updated: 6-VII-2011