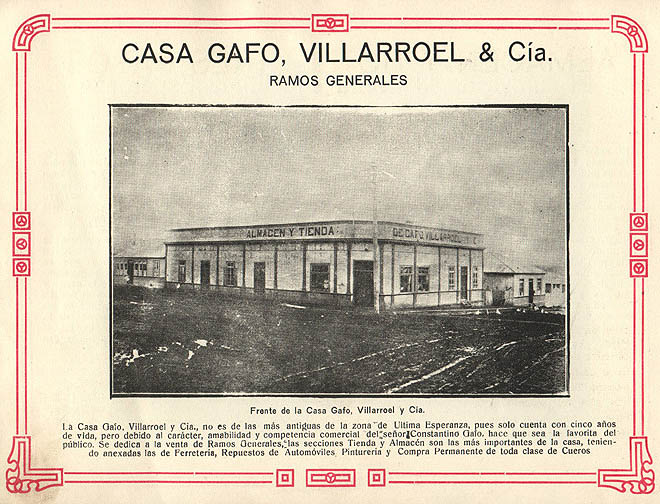 Álbum Última Esperanza

Casa Gafo, Villarroel & Cía.
Ramos Generales
Foto
Frente de la Casa Gafo, Villaroel y Cía.
Facade of the Gafo, Villarroel & Co. Store
La Casa Gafo, Villarroel y Cía., no es de las más antiguas de la zona de Última Esperanza, pues solo cuenta con cinco años de vida, pero debido al carácter, amabilidad y competencia comercial del señor Constantino Gafo, hace que sea la favorita del público. Se dedica a la venta de Ramos Generales, las secciones Tienda y Almacén son las más importantes de la casa, teniendo anexadas las de Ferretería, Repuestos de Automóviles, Pinturería y Compra Permanente de toda clase de Cueros.
The business house of Gafo, Villarroel & Co. is not one of the oldest in Última Esperanza, being only five years old, but it is already a favourite with the public, thanks to the character, friendliness and business ability of Mr. Constantino Gafo. A General Store, its most important sections are Household and Grocery; other sections are Hardware, Automobile Parts, Paints and Purchase of Hides of all types.