Daily life on a Patagonian sheep ranch (1902)
The private diary of Mary Jane Rudd [in English]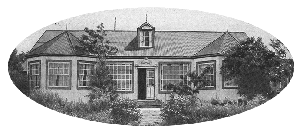 Mary Jane Rudd, born 1882 in the Falklands, was the third of thirteen children of John Rudd and Ann MacCall [biographical notes], also Falkland Islanders. In 1886 the family immigrated to Santa Cruz Territory, settling at Estancia Cape Fairweather, where they raised sheep.
In simple language, Mary Jane provides us with a first-hand insight into the early years of settlement in the Río Gallegos district. These eight months of daily notes tell us about many aspects of the pioneer experience: the organization of the farm, with its pastures, animals and crops; seasonal activities, and the extra labour that was hired to perform them; house-building, and the specialised work done by the carpenter; weather (wind, rain and snow); self-sufficiency and trading with the nearby town, using the ferry-boat to cross the ria; the roles of men and women, adults and children; births and deaths; entertainment, whether hunting, games or community activities; contacts with neighbours, relatives, other Falkland immigrants, and Spanish-speaking settlers; means of communication, by coastal steamship by post or delivery in person.
All in all, this diary of a young woman is a veritable time-capsule, which should be of interest to social historians and the general public alike.
Duncan S. Campbell,
December 2012
NOTE: Some spelling errors have been corrected. Words whose meaning is unclear are marked with "?". Illegible letters or words are indicated by "...".
---
Publication courtesy of: John & Myrna Rudd (X-2012)
Transcription: Duncan S. Campbell (XII-2012)
Copyright © 2004-2017 — Duncan Campbell & Gladys Grace
Personal and educational use only — Please cite this URL
Contact:-
E-MAIL