Midshipman Isaac Morris, HMS Wager, 1740-46
Shipwrecked, escaped, stranded, captured, enslaved, traded, imprisoned, transported, released, repatriated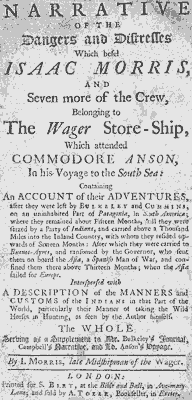 To be shipwrecked on a remote and inhospitable coast of a far-away ocean is bad enough.

To be abandoned on another remote and uninhabited coast of a different ocean while returning to safety is doubly unfortunate.

Yet, that is just what happened to the author of this book.

AND ...

he lived to tell the tale.
Thanks: Staff of the Library of Congress Rare Books Reading Room (Washington DC), the Navy Historical Library (Washington DC), and the McKeldin Library, University of Maryland (College Park), for their kind assistance.

Source: Original book printed in London, c1750. This electronic edition transcribed from microfiches of Lost Cause Press, Louisville, Ky, filmed from an original copy.
Note: For the convenience of the reader, spelling has been modernized. A few archaic words have been replaced by their modern equivalents.
Copyright © 2004-2017 — Duncan Campbell & Gladys Grace
Personal and educational use only — Please cite this URL
Contact:-
E-MAIL