1916
PATAGONIAN PATTER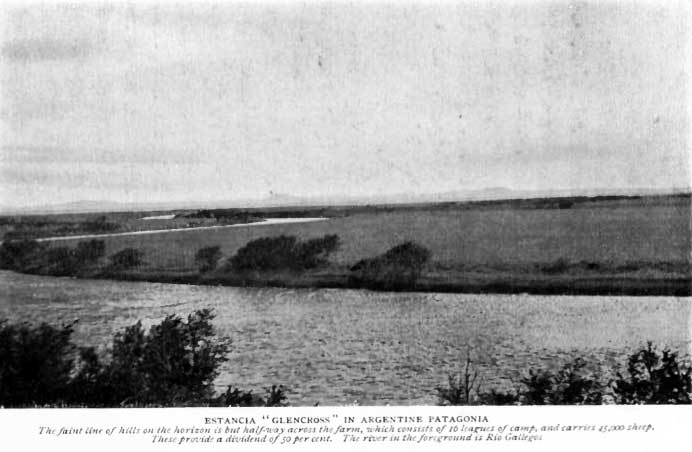 ESTANCIA " GLENCROSS," IN ARGENTINE PATAGONIA.
The faint line of hills on the horizon is but half-way across the farm, which consists of sixteen leagues of camp, and carries 45,000 sheep. These provide a dividend of 50 per cent. The river in the foreground is Rio Gallegos.
A FEW OF THE 45,000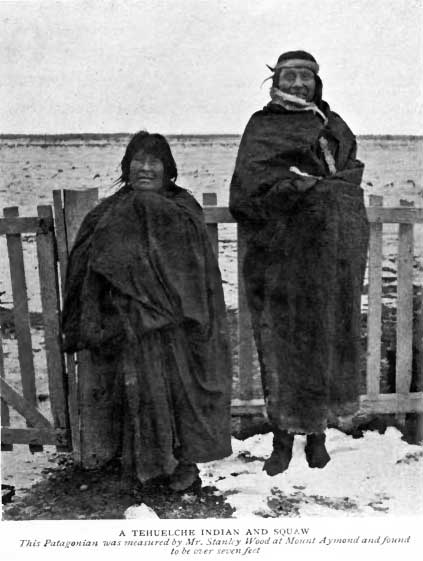 A TEHUELCHE INDIAN AND SQUAW
This Patagonian was measured by Mr. Stanley Wood, at Mount Aymond, and found
to be over seven feet.
TEHUELCHE INDIANS IN GUANACO SKINS DOING A BIT OF SHOPPING IN PUERTO GALLEGOS,
ARGENTINE PATAGONIA
Source: "A Merry Banker in the Far East (and South America)" (1916), Chapter 10, Walter H. Young (Tarapacá), London 1916
Clipped: 16-I-2014
Copyright © 2004-2015 Duncan S. Campbell + Gladys Grace P.
— for personal and educational use only — please cite this URL —