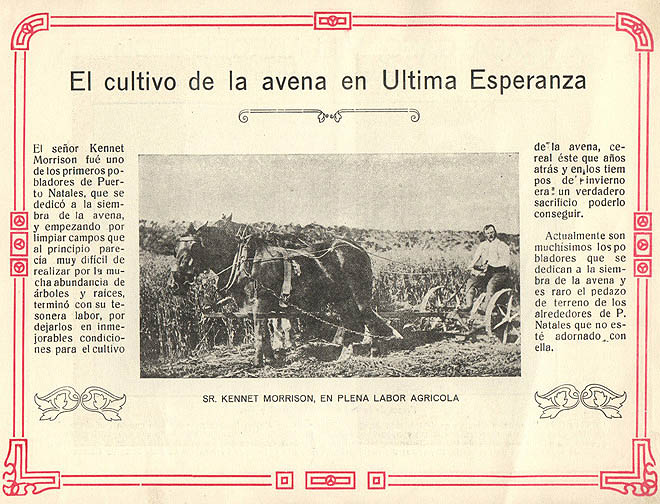 Álbum Última Esperanza

El cultivo de la avena en Última Esperanza
Sr. Kennet[h] Morrison, en plena labor agrícola
The Cultivation of Oats in Ultima Esperanza
Mr. Kenneth Morrison, at work on the farm
El señor Kennet[h] Morrison fue uno de los primeros pobladores de Puerto Natales, que se dedicó a la siembra de la avena, y empezando por limpiar campos que al principio parecía muy difícil de realizar por la mucha abundancia de árboles y raíces, terminó con su tesonera labor, por dejarlos en inmejorables condiciones para el cultivo de la avena, cereal éste que años atrás y en los tiempos de invierno era un verdadero sacrificio poderlo conseguir.

Actualmente son muchísimos los pobladores que se dedican a la siembra de la avena y es raro el pedazo de terreno de los alrededores de P. Natales que no esté adornado con ella.
Mr. Kenneth Morrison, one of the first settlers of Puerto Natales, specialised in growing oats. He started by clearing fields, a difficult task, because of the quantity of trees and roots. With determination he completed this work, bringing the fields to excellent condition for the cultivation of oats, a cereal crop which was very hard to obtain years ago in winter-time.

Nowadays, many settlers plant oats, and it is a rare piece of land around Puerto Natales that is not used in this way.